About This File
In this package you will get the website and 8 apps
The applications are:
- Native iOS User App
- Native Android User App
- Native iOS Driver / Service Provider App
- Native Android Driver / Service Provider App
- Native iOS Store App
- Native Android Store App
- Native iOS Kiosk User App
- Native Android Kiosk User App
The website and applications have been tested and everything is working fine so I advise you to buy now if you are interested because the price will soon increase to 800 euros
Why to go for CubeJekX 2020?
A sense of worry seeps in to the mind of a common man when he has to download and use Multiple Apps for using day-to-day services. Usually there are Single Apps for each Services. Eg. A dedicated App for Taxi Booking, another App for Ordering Food, yet another for getting Grocery Delivered, etc and so on.
To make sure that your User doesn't have to download numerous Apps, we have Go-Jek kind of App which has multiple Services inside it. So a user would register just once, set his Profile & Payment Detail once and starts using all the Services. He can be doing a Taxi Ride and at same time, order Food or get Grocery Delivered to his home.
Users prefer to use Apps that allow them to book Multiple Services.
If you were planning to develop such advanced Multi-Services Apps and launch it in your country, then CubeJekX 2021 is the best solution for you.
We'll be available to White Label the Apps and make it ready for launch on your Play Stores within a week with your Name and Logo, your Preferred Color Theme, Language & Currency on it. Thus giving you an opportunity to own such business and start earning good money easily as you make commission on every Service that is booked via the Apps.
Major Services Present on CubeJekX 2021
(These Services can be booked through Application as well as Website)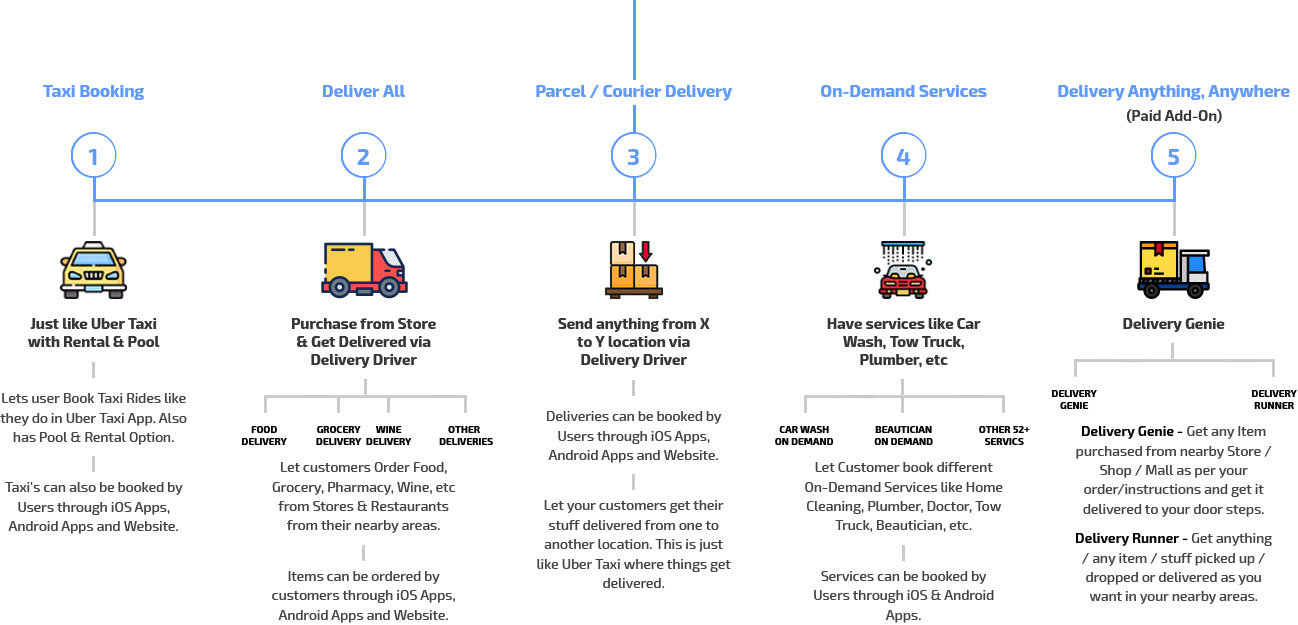 Services included in the App
Unique Advantages & Features of CUBEJEKX 2021
Running a Gojek-like business is not a cakewalk! It requires a huge amount of persistence and efforts and one may face many challenges along the way. We have added some Advanced Features in our Apps that will help you to cope with all major Technical Challenges you may face while running this business. Some of which are listed below.

Finding
an Alternative to Expensive Google Maps
A point to remember, Google Maps APIs are very expensive and some of our very dear clients had to pay enormously for the Google Maps APIs. Their prices has increased 2 to 3 X times since the time they became popular. And they keep on increasing the costs. We thus researched to find the best alternative to Google Maps. We were successful and were able to integrate many API's from other Map companies into our Apps. These Maps are as good as Google and not expensive at all.
*This is a Paid Add on. Please contact us for more details.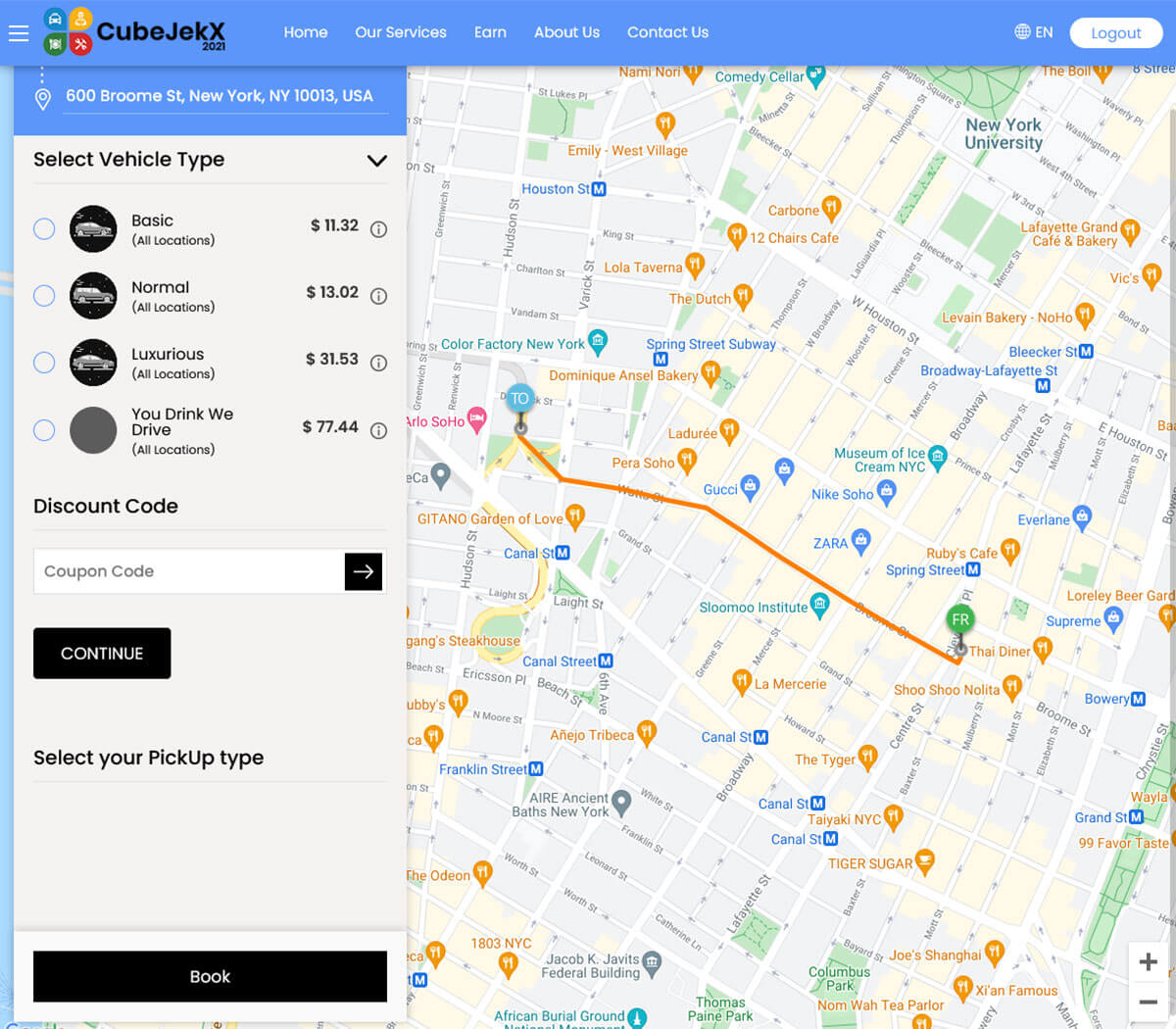 Booking Services
through Website & Phone Calls
We completely understand not everyone is so gadget savvy or proficient with the operations of a Smart Phone like the aged, say for example. Thus, to make it easier for them as well as those who are not too gadget savvy, we present advanced and complex features like "Booking Services" through "Website by Users" and by "Backend Team" from their Panel when they get Service Requests via calls.
Your Customers will simply call you and provide the details about the Service they want and you will book the Service on their behalf. This ensures that you as the business Owner can take the requests from users who do not have the App and dispatch the Services in the same speed as when done through the App.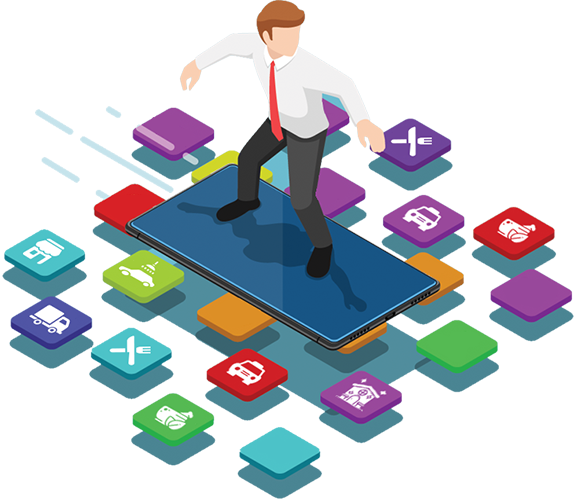 60+ Services 
under One Umbrella
Users prefer to use Apps that allow them to book Multiple Services. To make sure that your User doesn't have to download numerous Apps for booking each service, we created this App that will allow them to register in just 1 App and book all kinds of On-Demand Services.
With single Login, users can book all kinds of services like Taxi Booking, Grocery Delivery, getting appointment with Doctor, Ordering Food, all at a go – in real time.
Give Your Customers
the most Secure Shopping Experience
The world is struck by a deadly virus and the need to maintain hygienic practices has become the need of the hour. To ensure that your customers don't have to worry about unhygienic shopping and delivery processes, our app is now equipped with the best safety measures. High end features included in the latest app include Contactless delivery option to avoid any contact with the delivery driver, Safety Badge for stores which enable the admin to provide a safety badge to various stores showing the commitment of the stores towards ensuring the best ever sanitation and security procedures and a Take away option to ensure that you can pick up the orders yourself to avoid any involvement of a delivery driver.
Major Components & Apps Flow
This is a super App that has Multi Services like Taxi, Courier Delivery, Fly, Food Delivery, Grocery Delivery, Super Market Delivery, Car Wash, Towing, Massage Service, Baby Sitting, Dog Walking, etc and many On-Demand Services. All Services can be booked via Apps and Website. Here is basic flow of the App for your understanding.